Ho Chi Minh City, Vietnam
No. 3, Street 6, Vietnam Singapore, Industrial Park
Thuan An City
Binh Duong Province
Vietnam
Get Directions
Manufacturing Space
60,000 sq. ft.
Vertical Markets
Instrumentation & Control
Commercial Aerospace
Medical Devices
Life Sciences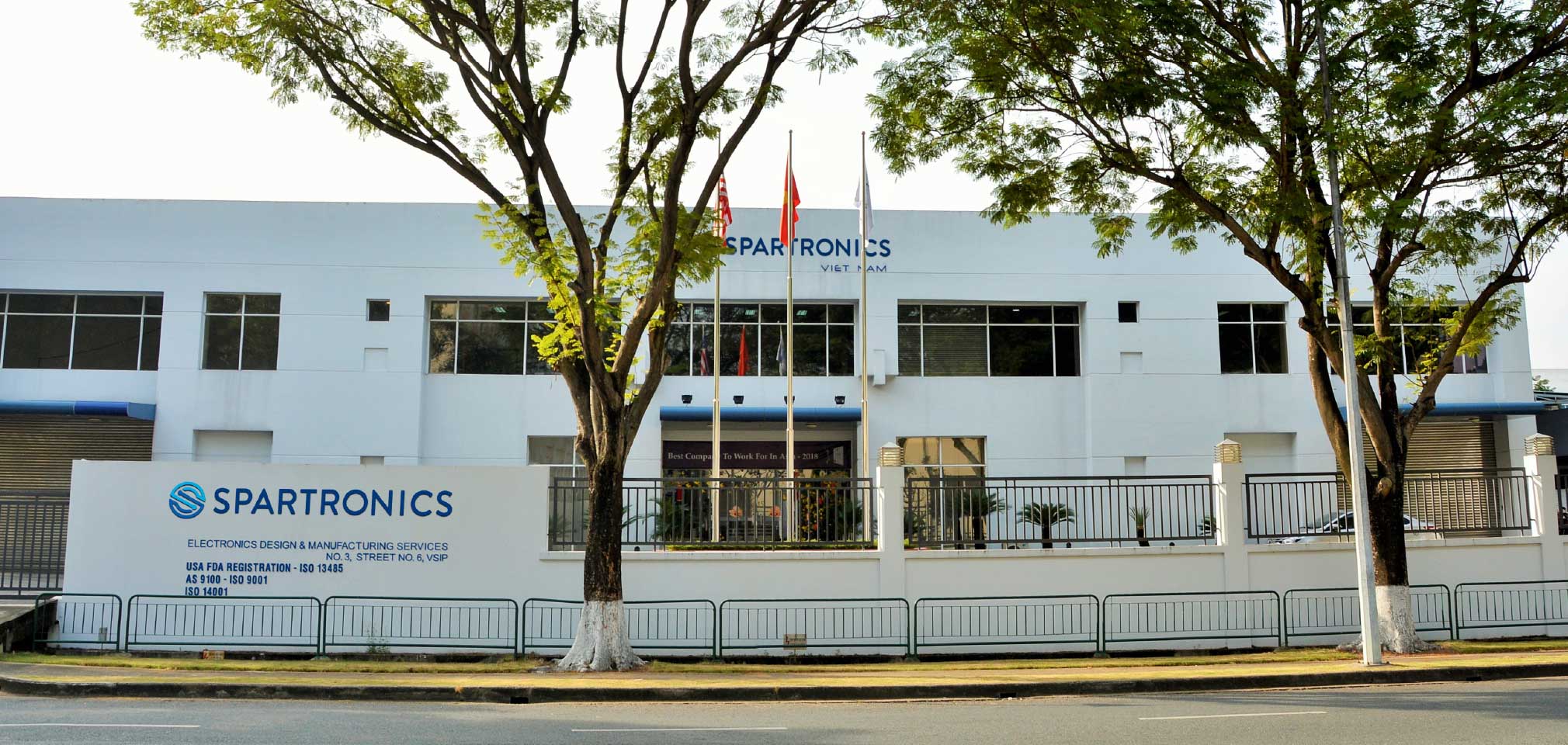 Expertise to Drive Your Profitability
In southern Vietnam, Spartronics manufactures complex electronic and electromechanical products for commercial aerospace and instrumentation and control applications for high-cost-of-failure industrial environments. We partner with our customers along the entire manufacturing value chain, providing engineering, prototyping, manufacturing, supply chain management and aftermarket services.
Automated Optical Inspection (AOI)
Cable and Wire Harnesses
Conformal Coatings
Control Panel Configurations
Direct Order Fulfillment
Electromechanical Sub-Assembly and Full Assembly
Environmental Testing (ESS [Environmental Stress Screening])
Full-System Integration
Functional Test Development
High-Pot Testing
In-Circuit Testing Development
In-Circuit Testing, Flying Probe, Boundary Scan
KanBan in Finished Goods and Work-in-Process (WIP)
New Product Introduction (NPI)
Printed Circuit Board Assembly (PCBA)
Prototyping
Supply Chain Management
Surface Mount Technologies (SMT), Through Hole, Flex and Mixed Circuit Card Assembly
Vertically Integrated Systems
X-Ray Inspections
AS 9100
FDA Compliant and cGMP/QSR Registered
21 CRF 820
ISO 13485
ISO 9001
J-STD-001
IPC-A-610
IPC-A-620
IPC-7711/7721
ISO 14001
Manufacturing Support of UL, Intertek, TUV and CSA Inspections
RoHS and REACH
Value-Added Engineering Services
Complex Repair and Upgrade Service Center
Configuration Management: Valor and Arena
Design for Manufacturability (DFM) and Design for Excellence (DFX)
Flying Probe Testing for Low-Volume, Prototype and NPI
Full System Level Functional Testing Development
Functional Testing Design
In-Circuit Testing and Functional Testing Fixture Development
Mechanical Design and Drawing
Printed Circuit Board (PCB) Design, ECAD Layout
Product Development and Testing
Project Management
Repair and Refurbishment
Aircraft Engine Controls
Audio Systems
Cargo System Controls
Measurement and Detection
Medical Devices
Motion Controls
Power Management Systems
Semiconductor Equipment
Telecom Devices  
Warehouse Management Systems
Wireless Devices and Transmitters
Audio
Circuit Breakers, Contractors, Motor Controls, Relays
Digital and Analog Designs
Electronic Modules
Embedded Processing Systems
Firmware
Flex Circuits
Graphical User Interface (GUI) Development
Lasers and Optics
Power Supplies and Uninterruptible Power Supply Systems
Recording
RF Audio Transmission and Communication Technologies
Robotic Handling Systems
Ruggedized Industrial Systems
Sensors
Software Application Development
System Application Development
Systems Engineering
Thermally Controlled Systems
Transformers and Filters