Spartronics to speak at EMS Leadership Summit at IPC APEX EXPO 2022
Spartronics has been invited to speak at the EMS Leadership Summit at the IPC APEX EXPO on Monday, January 24th, 2022. The EMS Leadership Summit allows industry leaders the opportunity to discuss business growth, financial uses and gather insights from industry experts during panel discussions and roundtables.
Quote Supervisor of Spartronics Brooksville, Deb Gude will represent Spartronics and speak to SupplyFrame's quoting platforms, QuoteFX and QuoteWIN during a user experience panel discussion on Quoting Software. Deb will deliver the importance of how adoption of advanced quoting management solutions drive efficiency at a global enterprise level. The audience will walk away understanding how these purpose-built quoting solutions are taking the most complex product costing challenges into one, easy to use, single platform and help standardize processes for electronic contract manufacturers (ECM), such as Spartronics.
Deb brings 39 years of industry experience and 25 years specifically in Supply Chain functions both with Spartronics. Her depth of knowledge within quoting includes managing the quote group, manufacturing planning, test labor calculation and related cost factors in preparing summary of costs and the construction of price proposals. Deb also holds the title of Small Business Liaison Officer responsible for developing and preparing individual subcontracting plans and monitoring performance for Spartronics.
The IPC APEX EXPO is the largest event of electronics manufacturers in North America. The IPC APEX EXPO provides the latest industry practices, insights into emerging technologies and industry strategies, and allows networking opportunities. Within the APEX EXPO, the EMS Leadership Summit focuses on sharing insights of industry leaders to help solve problems, build business networks, and share insights to doing business better.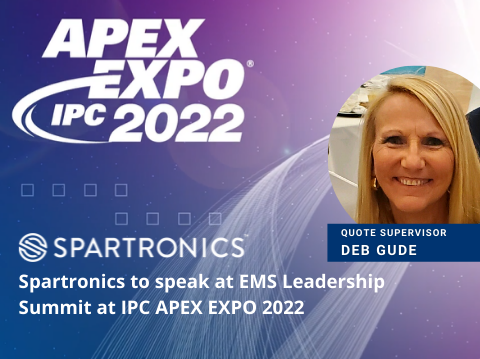 For additional information on the IPC APEX EXPO, please visit: https://www.ipcapexexpo.org/