Spartronics Webinar Series | Offshoring Contract Manufacturing to Vietnam Drives OEM Success
Join Spartronics leaders on Wednesday, September 7th at 11 AM EST as they discuss the success OEMs are having by leveraging Vietnam for the offshoring of contract manufacturing of their commercial aerospace, medical and industrial applications. During this webinar, Spartronics leaders, Dung Tran, Vice President and General Manager of Industrial, and Larry Veiga, Vice President of Business Development will discuss how the inflation of labor costs in China combined with the impacts of the recent trade war between the United States and China are prompting OEMs to look for an alternative market in which they can locate production.
This creates an opportunity for which Vietnam is well positioned geographically, politically, and economically. U.S. companies are recognizing that opportunity, particularly those that partner with contract manufacturers (CMs) to make electromechanical devices for commercial aerospace, defense, space, life sciences, medical devices, industrial, and semi-cap applications. Their urgent need to develop alternative supply chains is driving an accelerating shift of manufacturing from China to Vietnam.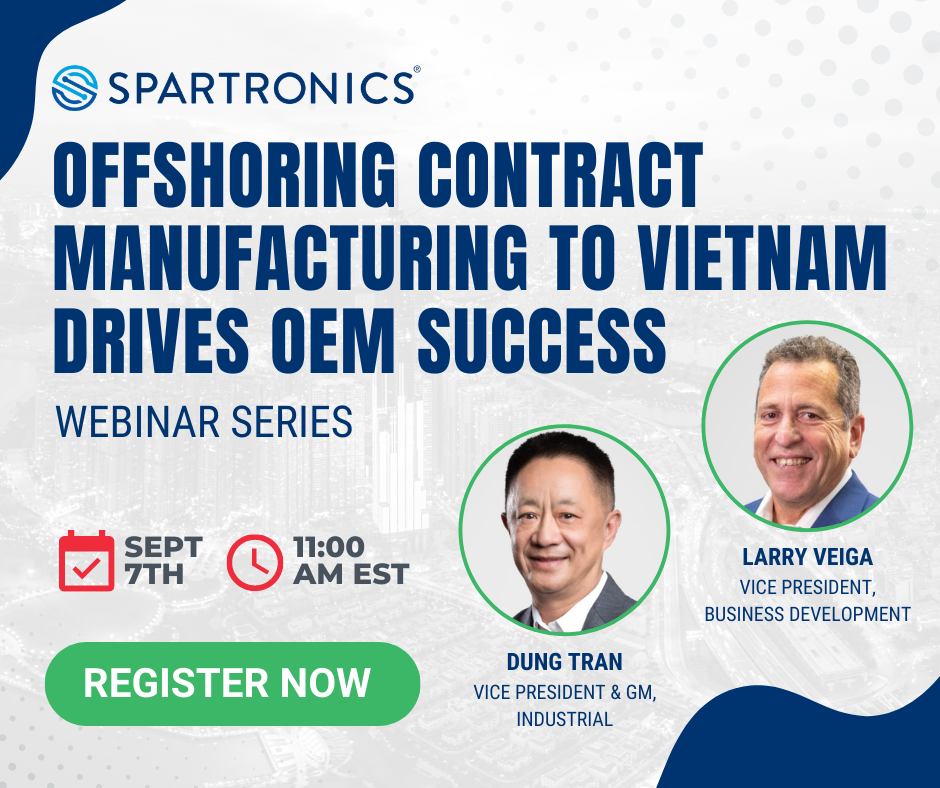 In this webinar, we will discuss:
Drivers behind Vietnam's cost competitiveness
How OEMs can lower total costs with U.S. owned manufacturers in Vietnam
Local Vietnam sourcing options for supply chain
Overview of Spartronics off-shore Vietnam facility offering
To register for this live webinar event, please click here. Registration will close prior to the event, so please don't forget to register! 
Gated material window that will open and must be completed before able to access material.